About the service
Page contents
About the service
What is Ring and Ride?
Ring and Ride is a door-to-door transport service for anyone who lives in the urban areas of the West Midlands who find it difficult or impossible to use normal public transport.

The service is particularly ideal for:
anyone suffering from a temporary injury (such as a broken leg, a sprain, a sports injury or recovering from an operation);
young and elderly people who find it physically difficult to use public transport
disabled people who want the convenience of a door-to-door service.
Where does Ring and Ride operate?
Ring and Ride operates across the West Midlands across the following areas of the West Midlands. Registered users are able to travel within their surrounding area – for example, a passenger living in Erdington can travel anywhere in North Birmingham.
The services does not currently operate in Meriden or the surrounding area.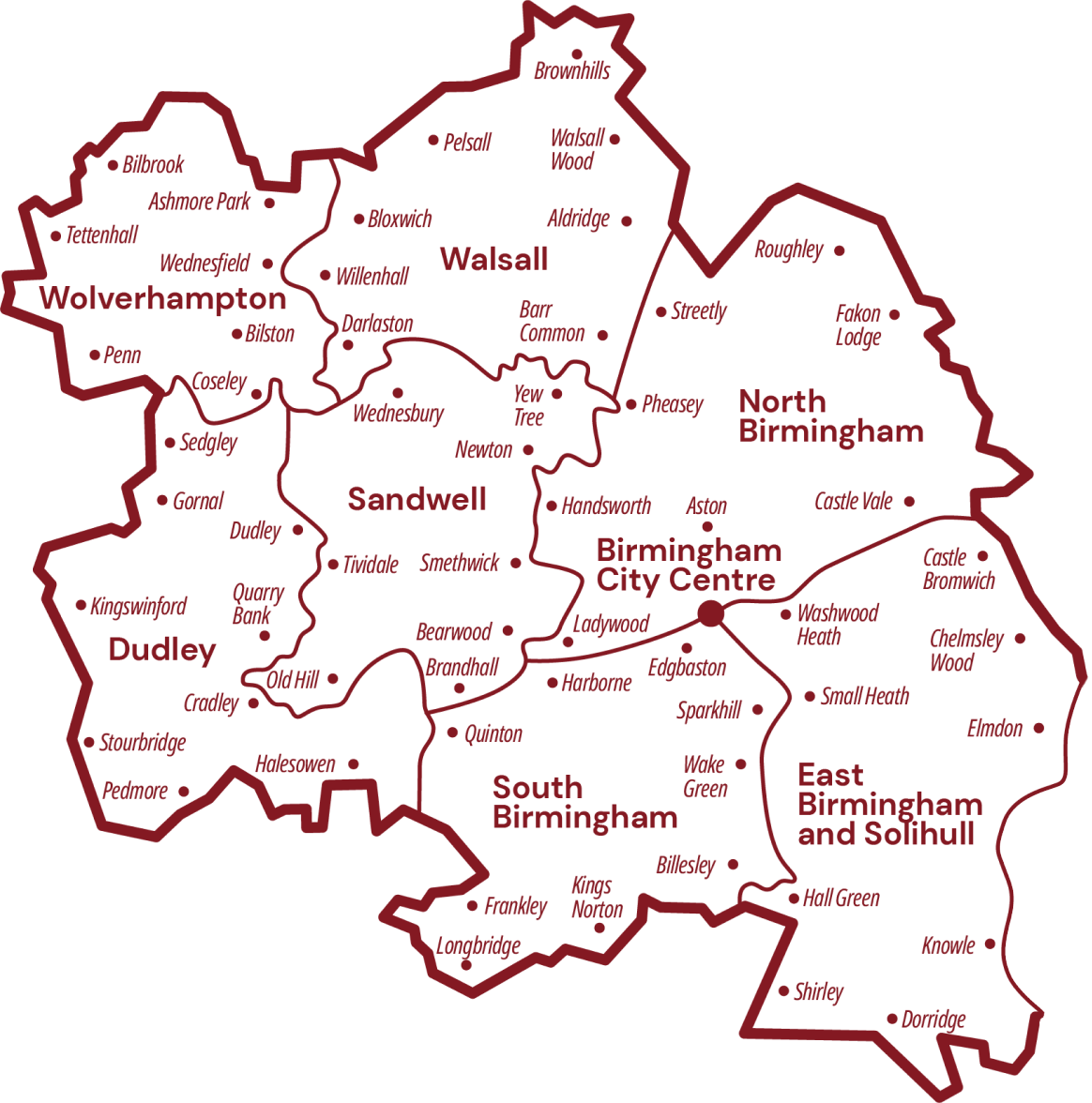 Who can use Ring and Ride?
Generally, to become a registered user of Ring and Ride, you must find it difficult or impossible to use conventional public transport and be resident in one of the seven districts of the West Midlands:
Birmingham
Dudley
Sandwell
Solihull
Walsall
Wolverhampton
Customers can take a companion and dependent children with them provided they book them in advance. We use minibuses with ramps or lifts, so people who use wheelchairs or find steps difficult can easily use the bus.

Other local authorities may provide a similar service for residents in their area.
What kind of trips can Ring and Ride be used for?
Customers can use the service for the same short journeys they would make on normal public transport such as commuting to and from work, visiting friends, shopping and leisure activities.
Can I use Ring and Ride for hospital appointments?
Customers can use Ring and Ride for trips to GP and other medical appointments. You can also use it if you are visiting someone in hospital.
Hospital appointments
Ring and Ride cannot be used for trips to hospital appointments. For these type of appointments customers can use West Midlands Ambulance Service Patient Transport Service. These services provide non-emergency free transport to and from hospital. To find out more visit wmaspts.wmas.nhs.uk/. If unsure, please speak to your GP or hospital about transport arrangements.
When can I travel?
The Ring and Ride service is available from:
Monday to Saturday, 8:00am to 11:00pm
Sunday, 8:00am to 3.30pm
There is no service on bank holiday Mondays and the service may differ over Christmas, New Year and Easter.
When do I need to request a journey?
Journey requests need to be received by 6pm on the day prior to your preferred journey. Here is a table to help you with when you will need to request a journey.
| | |
| --- | --- |
| If you wish to travel on | Request your journey on |
| Monday | Saturday |
| Tuesday | Monday |
| Wednesday | Tuesday |
| Thursday | Wednesday |
| Friday | Thursday |
| Saturday | Friday |
| Sunday | Friday |
Where there is a bank holiday Monday please request your journey on the Saturday for travel on Tuesday. For any other bank holiday, details of the booking window will be made available onboard vehicles and online.
How much does Ring and Ride cost?
Registered user (Age 16+) and Essential Escort/Carer
Registered user (Age 5-15)
Non-registered users (travelling with a registered user)
Adults - £2.40 single
Children under 16 - £0.65
Children under 5 travel free.
(n) network and (n) bus passes are valid on Ring and Ride services.
Please note that Blind and Disabled and Older Persons Concessionary passes (those used free of charge on bus and train services in the West Midlands) are not accepted.